Former President Donald Trump's first court hearing following his indictment on 34 counts of falsifying business records lasted 57 minutes, according to court records.
Here is the full transcript of what transpired in the courtroom, according to records that were released.
THE CLERK: Calendar number one, indictment 71543 of 2023, People of the State of New York versus Donald J. Trump. Appearances.
CHRISTOPHER CONROY: Christopher Conroy for the People. And Judge, with me are Catherine McCaw, Matthew Colangelo, Susan Hoffinger and Becky Mangold.
JUDGE JUAN MERCHAN: Good afternoon.
TODD BLANCHE: Good afternoon, your Honor. Todd Blanche for President Trump.
SUSAN NECHELES: Susan Necheles for President Trump as well.
JOSEPH TACOPINA: Once again, Joseph Tacopina for President Donald J. Trump.
JUDGE MERCHAN: Good afternoon. This matter is on for arraignment. Anything that we need to address before we conduct the arraignment?
CONROY: Not from the People.
JUDGE MERCHAN: Defense?
BLANCHE: No, your Honor.
JUDGE MERCHAN: Let's arraign Mr. Trump.
THE CLERK: Donald J. Trump, the grand jury of New York County has filed indictment 71543 of 2023 charging you with the crimes of 34 counts of falsifying business records in the first degree. How do you plead to this indictment, guilty or not guilty?
DONALD TRUMP: Not guilty.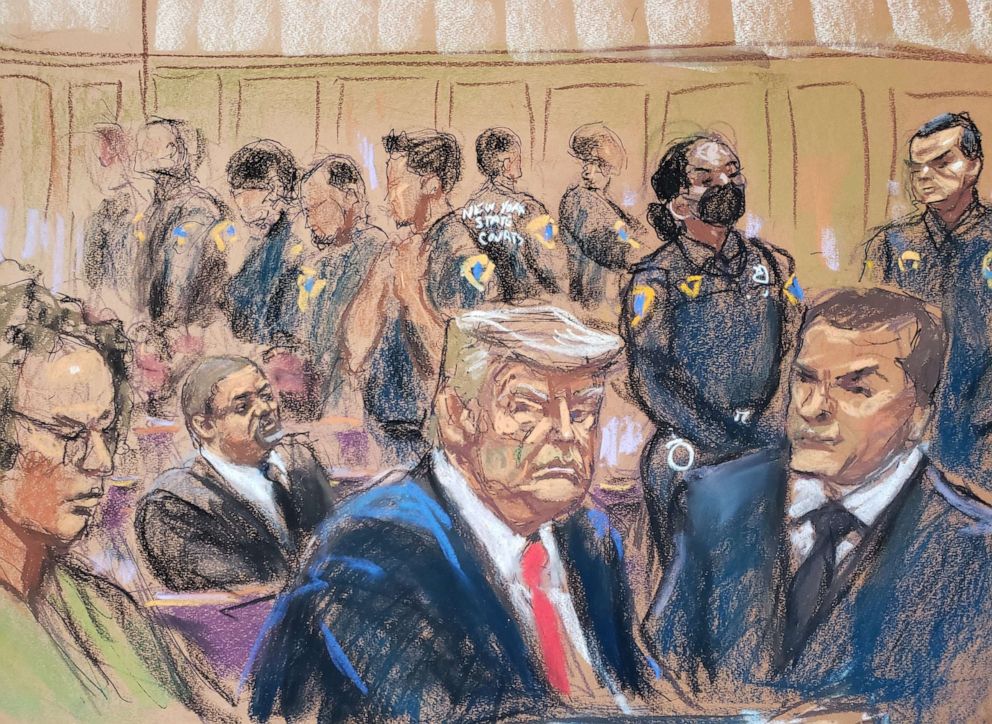 JUDGE MERCHAN: People.
CONROY: Thank you, Judge. First, we are filing with the Court and handing to counsel, copies of the indictment and a statement of facts. Judge, I'm also handing over to counsel a copy of the fingerprint report, and I would note for the record that the indictment was actually unsealed at 1:30 today and given to counsel for the defendant so they could review that in advance of this appearance. Your Honor, a grand jury sitting here in Manhattan made up of diligent, thoughtful New Yorkers who did their civic duty, listened to the evidence and carefully considered the charges has voted an indictment against the defendant, Donald J. Trump, charging him with 34 separate felony counts of falsifying business records in the first degree in violation of New York State Penal Law section 175 10.
ADA McCaw is prepared to address discovery, scheduling of motions, and a trial date in a moment, but with the Court's permission, I would first like to address briefly what this case is about, the defendant's recent public statements, conditions of release, and the conflict matter the People believe the Court should be aware of.
JUDGE MERCHAN: Please.
CONROY: Thank you. The defendant, Donald J. Trump, falsified New York business records in order to conceal an illegal conspiracy to undermine the integrity of the 2016 presidential election and other violations of Election Laws. Beginning in about August of 2015, the defendant agreed with others to carry out an unlawful plan to identify and suppress negative information that could have undermined his candidacy for President. As part of that plan, a lawyer employed by the Trump Organization made a covert and illegal $130,000 payment at the defendant's direction. The purpose of the payment was to avoid negative attention to the defendant's campaign by suppressing information about an allegedly sexual encounter between defendant and an adult film actress.
After the election, defendant reimbursed the lawyer through a series of disguised monthly payments that hid the true nature of the payoff by causing a series of false business records in the records of the Trump Organization here in Manhattan, and even mischaracterized for tax purposes the true nature of the payment. Defendant falsified these New York business records with the intent to defraud, including the intent tocommit another crime, and to aid and conceal the commission of another crime.
This office has long prioritized protecting the integrity of business records maintained here in New York County.
When those records are falsified in service of another crime, it is a felony.
That is what this defendant did when he falsified business records in order to conceal unlawful efforts to promote his candidacy and that is why we are here.
Next, I would like to briefly address this defendant's recent public statements threatening our city, our justice system, our courts, and our office.
Over the past several weeks and longer, this defendant has made a series of threatening and escalating communications on social media and on other public remarks. This includes irresponsible social media posts that target various individuals involved in this matter, and even their families.
His public statements have, among other things, threatened potential death and destruction, and that is a quote, and world war three, another quote, if these charges were brought and he was indicted.
They have directly addressed the grand jury and disparaged witnesses who have purportedly participated in our investigation.
Defendant has also directed a series of threatening public statements to the District Attorney's Office, including posting a picture that depicts Mr. Trump wielding a baseball bat at the head of the District Attorney.
These comments and posts have led to extensive public safety measures being put into place by a number of law enforcement agencies around the city, including here at the courthouse starting several weeks ago.
At this point, I'm going to hand the Court copies of several of the defendant's recent online posts as an example. Sorry, one moment.
(Handed to Court and counsel).
CONROY: I'm also handing copies to counsel. These posts are examples of this kind of threatening rhetoric.
We have significant concern about the potential danger this kind of rhetoric poses to our city, to potential jurors and witnesses, and to the judicial process.
What these kinds of posts will not do, is deter the New York County District Attorney's Office from carrying out its critical public safety mission professionally, and evenhandedly in connection with every single investigation and prosecution we have handled, including this one.
At this point, one way to address the defendant's behavior and rhetoric is an appropriately restricted protective order concerning discovery materials, so that his lawyers can access the information they need to prepare a defense, while at the same time, making sure the defendant does not disseminate any information provided as discovery through threatening online posts.
ADA McCaw will further address the protective order shortly, and the terms of any protective order the Court enters can of course be carefully policed through contempt proceedings and other sanctions as necessary. Today we are only seeking a protective order regarding discovery materials, but we note that the defendant's escalating public comments summing directly at participants at these proceedings and their family members, may also raise concerns about the fair and orderly administration of justice, the risks that pretrial publicity will paint the jury pool and prejudice a fair trial, and individual and public safety concerns.
We are considering whether further relief or conditions would be warranted here based on continuing developments, and we would be prepared to submit briefing if the Court requests.
I'm going to move now to conditions of release. In addressing the terms or the conditions of defendant's release, we first note under New York law, these charges are not bail eligible.
We further note defendant surrendered voluntarily for his processing and arraignment today.
We are asking the Court to give the defendant Parker warnings before he leaves the courtroom today.
Should the defendant decide got to return to court from out of state, these warnings would help mitigate potential issues around any extradition proceeding.
Finally, if circumstances change and we believe modifications to these conditions are required, we will advise the Court.
Last on my list, we would like to bring to your attention a potential conflict Mr. Tacopina may have, given our understanding that he previously had privileged communications with Stormy Daniels, who we expect to be a witness in this case.
We believe it appropriate for you to conduct an inquiry at an appropriate time of both Mr. Tacopina and the defendant about potential conflict issues related to his prior dealings with Ms. Daniels.
We received a copy of a letter from Ms. Daniels's current lawyer which was sent to Mr. Tacopina on this issue yesterday; Monday, April 3.
We can file a copy with the Court and serve it on counsel within the next day or so if that would assist the Court in considering this issue.
At this point, if it is okay, I was going to turn to Ms. McCaw to talk about discovery and other issues.
JUDGE MERCHAN: Of course. Counsel?
BLANCHE: Your Honor, thank you. I didn't realize we were going to give opening statements today.
I would appreciate the opportunity to respond.
Your Honor, the People just talked for 10 minutes or so about, it sounds like the strength of their case.
They did this — there is no trial, we have not seen discovery. It is actually consistent with what the witnesses have been doing they have been calling over the past several months.
Indeed, their main witness, Michael Cohen walks out of this office and stands on the courthouse steps everytime he meets with the prosecutors, everytime he testifies in the grand jury, and announces exactly what he's doing and why he's doing it.
It is true that President Trump has responded, and responded forcefully. It is true that as part of that response, he's absolutely frustrated, upset, and believes that there is a grave injustice happening with him being in this courtroom today.
That being said, your Honor, for the People to stand before you today and give their version of this indictment, is actually exasperating the problem.
So, the complaint from the People is that President Trump is talking too much about the case, talking too much about the investigation —
JUDGE MERCHAN: I'm not sure that is what they were saying. They are complaining about the rhetoric and the charged nature of the language that is being used.
CONROY: That is correct, your Honor.
BLANCHE: If that is the case, the President has not only free speech rights to talk about his view of what is happening by the District Attorney in this case, and also, it is important to step back, your Honor; to realize this case has been investigated for three and a half years.
Your Honor, one of the main investigators with this office, left the office, wrote a book about this investigation, published a book, and has talked about the book publicly.
Thereafter, as I said, the People's main witness has talked repeatedly, not only on the courthouse steps, but on every news, every news show and print media. He has written two books, he has a podcast all talking about the case.
The President is running for reelection to be the President of the United States.
I mean, imagine anybody in this courtroom that was in that position, an investigation that lasted over three years, over three years with leaks galore.
The People were right, we received a copy of the indictment about 40 minutes ago. The media received a lot of these hints about the indictment last Thursday night, and a copy of the indictment last night apparently.
That is a grave injustice. The People didn't address that. The People have not addressed the fact that there is literally a violation of law that happened at some point in the past five days with the illegal leaking of charges against President Trump.
What they did address, is their frustration when President Trump sees that, when he sees a legal leak describing charges that he knows nothing about, when we speak with the assigned ADAs, they correctly tell us they can't share anything with us because it is sealed.
And then he's frustrated and comments publicly about that; you can, I think, discuss words that are used, but everyone of these posts are not threats, they are not harassment, and rhetoric that maybe the People don't like, sure. But, I think it is patently unfair, patently unfair for somebody who is running for President of the United States, for somebody who has sat by and watched for three-and-a-half years an investigation go on about a $130,000 payment before the last election, by the way, to be frustrated and to speak publicly. He has rights, he's allowed to speak publicly.
JUDGE MERCHAN: Okay. Certainly, of course Mr. Trump does have rights, and I don't believe the People are asking the Court to impose any kind of gag order. I didn't hear that certainly.
BLANCHE: Agreed.
JUDGE MERCHAN: Certainly, the Court would not impose a gag order at this time even if it were requested.
Such restraints are the most serious and least intolerable on First Amendment rights. That does apply doubly to Mr. Trump, because he is a candidate for the presidency of the United States. So, those First Amendment rights are critically important, obviously.
I don't share your view that certain language and certain rhetoric is just by frustration.
So, although I'm not going to issue a gag order and not something close to a gag order, I would encourage counsel on both sides, the People to please speak to your witnesses. Defense counsel, speak to your client and anybody else you need to, and remind them to please refrain, please refrain from making statements that are likely to incite violence or civil unrest.
Please refrain from making comments or engaging in conduct that has the potential to incite violence, createcivil unrest, or jeopardize the safety or well-being of any individuals.
Also, please do not engage in words or conduct which jeopardizes the rule of law, particularly as it applies to these proceedings in this courtroom.
This is a request I'm making. I'm not making it an order. But now that I have made the request, if I were to be handed something like this again in the future, I have to take a closer look at it.
So, I ask you to please discuss that with your client and the People also discuss it with your witnesses.
CONROY: Judge, I just note for the record that we have done so and will continue to do so, and do everything we can to camp down on any witness comments in public, but there is only so much we can do.
JUDGE MERCHAN: Thank you.
MCCAW: Thank you, your Honor. I would like to address three matters before the Court today.
The first is the protective order the People are in the process of working out with defense counsel.
The second issue is discovery. And the third issue is scheduling.
So, to begin with, with respect to a protective order, the People believe, especially in light of the defendant's public comments, that a protective order is vital to insure the sanctity of the proceedings as well as the sanctity of the discovery materials.
We are in the process of working out a consent protective order with defense counsel. We have had a number of very productive conversations, and I believe that we are very close to agreement and finalizing the language.
I expect that when we do reach an agreement, we should be able to submit that language to the Court within the next few days, hopefully.
One thing I would like to highlight, however, is that the proposed order, should the Court enter it, would have terms that would be binding not solely on defense counsel, but also on the defendant himself, and that should the defendant fail to abide by these terms, it could have the effect of being in contempt of court.
So, I just want to highlight the three terms. These are terms which the defense and the People have reached broad agreement.
The first is that the defendant may not use any of the materials that the People produce for any purpose, other than to prepare a defense in this case.
The second is the defendant will be permitted to review certain sensitive materials, only in his attorney's office, and he may not take copies of the documents, portions of the documents, notes he took of the documents, et cetera, with him after he leave his attorney's offices.
And third, and perhaps most importantly, defendant may not provide the materials he receives through the discovery process to any third party, including the press, and he may not post them to social media.
And I would note again, for the record, that should the defendant after the Court enters an order violate any of the materials of this protective order, he could be in contempt of Court.
JUDGE MERCHAN: Before you move on to discovery, I'll turn to defense counsel. Are you working on a protective order?
NECHELES: Yes, your Honor, thank you.
We are working on it together. We hope to reach an agreement. We just received another copy of it.
I will note that the People in their statement of facts here have laid out what they I assume contend the grand jury evidence and the testimony showed. So, I'm concerned and we need to go back and discuss this.
It seemed fundamentally incorrect for the People be able to put out into the public a statement of what they believe the facts are, and for the defense and someone who is defending his career, his reputation, everything that he's built in his entire life for him not to be able to respond in the same manner.
So, we need to look at what is in here and have further discussions. We hope to do that promptly.
JUDGE MERCHAN: I hope you are able to come to a meeting of the minds in the protect order so I all I have to do is sign it.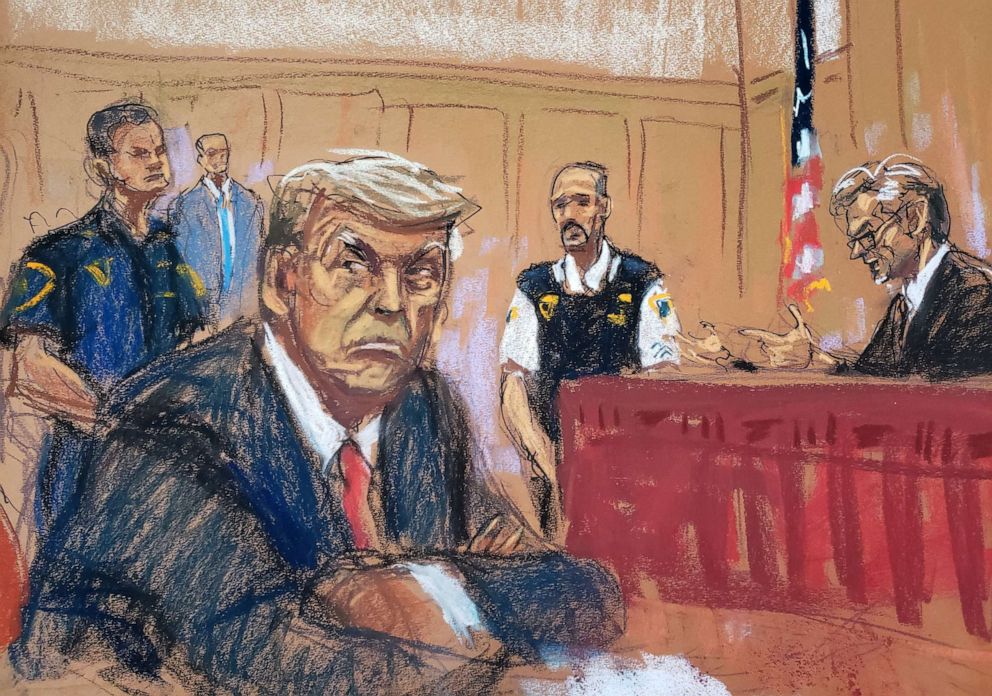 TACOPINA: One thing on the protective order. I know the D.A. said the review by the defendant would have to be in the attorney's office. That will not happen. I thought it was in the attorney's presence. We would meet most likely at the office of President Trump.
JUDGE MERCHAN: All right, since you are still negotiating, I will not weigh in at this time.
If you reach an impasse and you need my help in resolving anything, let me know and I'll try to help out. Now, the issue of discovery.
MCCAW: Yes, your Honor. Once a protective order is in place, the People expect they will be able to begin making rolling productions of discovery. We expect the productions of discovery will take place, broadly speaking, in three stages. The first stage of materials will be materials that consist of grand jury minutes and exhibits, as well as notes of witness statements for those witnesses who testified in the grand jury.
We expect we will be able to provide those materials to the defense within a week assuming an appropriate protective order is in place.
The second stage of discovery will consist of subpoena compliance, other witness materials, as well as some police documents and other odds and ends.
We believe this group of discovery materials will be the bulk of the People's additional discovery materials, and we expect we will be able to produce those materials within the 65 days allocated by the statute for voluminous discovery materials.
There will probably be a third stage of discovery that may consist of materials, such as internal District Attorney's e-mail messages. We don't yet have any sort of visibility as to how long the production of those materials would take.
I should note for the record, we believe the materials that we produce in the first and second stages, particularly the grand jury materials in the first stage, will be the most important materials that the People will provide.
We also would like to note for the record, that we understand there is an intense public interest in moving this case along as expeditiously as possible.
The People intend to request a trial date in January of 2024. So, we would like to produce these materials to the defense as quickly as possible to allow the defense ample time to prepare for a trial in January of 2024.
JUDGE MERCHAN: All right, would you like to be heard?
BLANCHE: Your Honor, I'll not repeat what I said before. This has been a long investigation. We don't have any discovery yet.
The People, and certainly the President wants this behind him. But, to sit here and say January of 2024 is good with us when we have not seen a piece of paper yet, is I think patently unfair for us, given everything that I think we know about the case from the media and from witnesses talking, and what we know. But certainly, we think that is a little bit aggressive.
We think later in the spring next year might be a more realistic, a more realistic plan at this point. But I'm speculating a bit because we have not seen anything yet.
JUDGE MERCHAN: All right, I understand what you are saying. I think that is reasonable. You have not received discovery. It is difficult to anticipate if you will be ready for trial in January of 2024.
The message I would like to deliver is we would like to move ahead as expeditiously as possible, without undue delay.
Of course, you are entitled to the discovery, you are entitled to review the discovery and make determinations there. Okay.
MCCAW: Thank you, your Honor. The next topic we would like to discuss is a schedule going forward. I believe that the next step would be to set an appropriate motion schedule.
The People have dates they would be willing to propose, but I understand as well that you might want to hear from the defense.
JUDGE MERCHAN: I would. So, you know, ordinarily you get 45 days. I know this is a much more complex case. As you have seen in a couple of recent cases I presided over, I did extend the motion schedule. What did you have in mind?
BLANCHE: Thank you, your Honor. We appreciate the consideration.
I would like to answer that in two parts, if I could. One, we strongly believe there will be substantive motions addressing the substantive facts of the indictment that could be dispositive.
Those motions certainly may, after we reviewed discovery, because we rely in part on the materials produced from the People. That being said, we are — we do believe that to move the case along expeditiously, there may be other motions that do not need to wait for the substantive motions several months from now after the conclusion of discovery.
And, so for example, the potential bill of particulars. We just got the statement of facts today. That might also be something we need before we start going through all the discovery.
So, what we would ask your Honor is we have an opportunity to study the indictment beyond the half an hour or so we had so far. Continue to think about potential motions and potentially file motions in two parts.
So, motions — and we will communicate with the People and with the Court as we land on the specifics of which motions and the timing, but some of the motions potentially dismissing the indictment after we had a chance to review discovery. So, I don't know if it is worth setting a date now. But if the Court would like to, we say at least six weeks after discovery has been concluded, and for other potential motions that we will reach out to the Court about, we would ask to have a month to file those motions or to at least inform the Court of what motions we intend to file.
JUDGE MERCHAN: So, People, when do you expect to complete your are discovery?
MCCAW: As I indicated, your Honor, we believe that the vast majority of the materials will be turned over to the defense within 65 days of the arraignment.
You know, there might be some additional straggler materials; especially the e-mail review, internal e-mail review from the District Attorney's Office.
That said, however, I don't believe the materials that would be coming post 65 days would be particularly meaningful.
Obviously, defense is entitled to see every single e-mail discovery in this case, but those e-mail messages tend not to be the most significant materials.
I would also like to say that to the extent that the defense does intend to file a set of motions immediately, and wants additional time after the discovery is complete to file a second set, we ask a motion schedule be set at this date for the first set of motions rather than waiting for a later date to set that motion schedule.
JUDGE MERCHAN: All right, so the 65 days would bring us out to almost mid June, at this point.
I'm not in favor of splitting this up into two sets of motions. I'll set one motion schedule, which I believe will be reasonable. If you disagree, let me know.
I think four months would be more than sufficient for you to be able to address your motions, so that would bring us out to Aug. 8. And so, by Aug. 8 or before, please file any and all motions.
BLANCHE: Thank you, your Honor. Just one caveat. To the extent we do believe we need to file a motion in advance of that, we will alert the People and Court, and obviously your Honor can guide us.
But, those dates you just described, assuming the schedule stays as the People have suggested works with us.
JUDGE MERCHAN: All right, so that would bring the People to, let me check my math here, I believe that brings the People's response to around September fifth.
MCCAW: Your Honor, if they are having six weeks, we appreciate six weeks as well. That brings us to Sept. 19, if that is possible.
JUDGE MERCHAN: I'm not giving them six weeks. I'm giving them basically four months from today to complete all of their motions. That is what brings us out to about Aug. 8.
MCCAW: So, if we could get six weeks from the date of the filing of their motions, in light of the amount of time they will have had to prepare the motions, we request a date of Sept. 19.
JUDGE MERCHAN: Okay. People's response off calendar. Defense motions to be filed off calendar. People's response is to be filed off calendar also by Sept. 19. I believe that covers the three issues you wished to address.
MCCAW: That is correct, your Honor.
JUDGE MERCHAN: Mr. Tacopina, Mr. Trump. The People have asked me to discuss with you the possibility of Mr. Tacopina might be conflicted out of this case.
TACOPINA: Can I address some things said?
JUDGE MERCHAN: Sorry?
TACOPINA: Can I address some things that were mentioned by the District Attorney regarding that?
JUDGE MERCHAN: Sure, go ahead.
TACOPINA: Just to give you some actual context, and whatever the Court deems necessary we can have whatever the Court deems necessary.
To be clear, we received last night, for the first time, a letter from a Clark Brewster, an attorney apparently representing Stormy Daniels, that was lauded with factual inaccuracies.
First and foremost, I never met Stormy Daniels. I never spoke to Stormy Daniels, and I never reviewed any documents of Stormy Daniels.
I know we are not doing a full-blown hearing here, but I want to give the Court some context.
She called my office, like many people do, and tried to hire me or asked about hiring me.
She spoke to an associate and paralegal. Gave some facts. Sent over a document, and it went no further than that.
We refused the case. I did not offer her representation. Didn't speak to her. Didn't meet with her. And it is as simple as that.
Of course, there is a rule governing that in New York State, the rule of ethics. Rule one point 18 regarding the duties to prospective clients. And most importantly, what has to happen here is I have to be in possession of information that is significantly harmful to the person in the matter.
I know we are not doing a full-blown hearing. I just want to put some things on the record.
Your Honor, that first of all does not exist. Everything she sent us wound up in her book. So, there is not obviously any privilege, and any that existed was waived.
But moreover, I learned I have documents supporting this, that Ms. Daniels, or Ms. Clifford, whatever her name is, signed a waiver, an attorney client waiver when she turned over all attorney client communications to the federal prosecutors in the Southern District, hereby waiving any attorney client privilege to begin with.
She testified in open court about her attempt to secure representation prior to retaining Mr. Avenatti.
She wrote a book regarding everything that had to do with potential representation and the document at hand.
And unless there was ever a point where the Court deemed there was a conflict, which I submit based on this there is not, we can submit in writing our position from Michael Ross, who is one of the most important ethical lawyers in the city.
More importantly, if we got to that point, we are not to that point, the remedy would be I do not participate in her examination.
There are three different law firms here. It is as simple as that. So obviously, I wanted to give the Court our position on the factual assessment.
JUDGE MERCHAN: People, what was your basis for believing there might be a conflict?
CONROY: Judge, it is a combination of the letter we received, which I can file with the Court in short order.
And also, I believe there had been comments made on various TV networks, perhaps even by Mr. Tacopina, and there were some privileged conversations between them.
If the Court — obviously, if there will be submissions, we are happy to engage in that process.
Again, we wanted to alert the Court to the potential issue, and I think it is a real potential issue that needs to be explored.
JUDGE MERCHAN: Okay, so that is your position. Mr. Tacopina refutes that. So, what I would ask is if there comes a point you would like to submit a motion on this, I will certainly welcome it.
In the meantime, I do believe I have an obligation to address both Mr. Tacopina and Mr. Trump with regard to this.
So, Mr. Tacopina, Mr. Trump, as you know, you have an absolute right to conflict-free representation.
The People have alleged that there is a potential, Mr. Tacopina has a conflict, and the basis for their belief is that he may have represented a former client who is a witness in this case.
At this point, I'm not making any findings of fact. I'm not deciding who is telling the truth or who is not telling the truth.
I simply want to inform you that because it is an important right. I also want to — first, do you understand that right, Mr. Trump?
TRUMP: Yes.
JUDGE MERCHAN: And therefore, People are not filing a motion at this time, but you are certainly welcome if you wish between now and then to consult with other counsel, run this issue by them and see how you feel about it when it it's over, okay?
TRUMP: Okay, thank you.
JUDGE MERCHAN: All right, I believe the only other issue is the Parker issue.
CONROY: Correct, Judge.
JUDGE MERCHAN: So, Mr. Trump, the People asked me to give you what are called Parker warnings.
I want you to know I would have given you these warnings whether they asked for them or not.
This is something I do with every individual who appears before me in the courtroom. Please bear with me as I do this.
You have the right to be present at every stage of the proceedings in your case. At every proceeding involved in the case, and that is obviously a very, very important right because it allows you to assist your attorneys in your defense of you.
It allows them to consult with you in your defense of you. I think it is definitely advantageous to have the jurors, if there is a jury, to see you present.
So, for all those reasons, I'm sure you can appreciate the right to be present at your trial and your proceedings is important.
I'm required by law to inform you that there are ways that you can waive your right to be present at these proceedings.
Specifically, I would like to refer to two specific areas. You can waive your right to be present if you voluntarily absent yourself from the proceedings.
So, if it is determined that at some point down the road you are not present at some stage because you chose not to be present, I do have the authority, I do have the right to find you voluntarily waived your right to be present and continue the proceedings in your absence. Do you understand that?
TRUMP: Yes.
JUDGE MERCHAN: A second way you can lose your right or waive your right is to become disruptive, and I do not have any reason to believe that will happen. But, if you become disruptive to such a degree that it affects my ability to preside over this case and my ability to insure that the case is treated the way it needs to be treated for both sides, I do have the authority to remove you from the courtroom and continue in your absence, do you understand that?
TRUMP: I do.
JUDGE MERCHAN: All right, if either one of those situations were to happen, and the case were to go to trial, we would go to trial without you.
If there were a verdict and that verdict were to be guilty, we would be able to take that verdict without you. And if there were to be a time for sentencing, we would be able to impose sentence without you. Do you understand?
TRUMP: Yes.
JUDGE MERCHAN: I think we need to set an adjourned date.
Having read Mr. Trump his Parker warnings, Mr. Trump will be released on his own recognizance. So we picked Sept. 19 for People's response?
MCCAW: Yes, your Honor.
JUDGE MERCHAN: All right, let's set this down for Dec. 4, for the Court's decision on the motions.
That will be here in person. So again, defense motion filed off calendar. People's response filed off calendar, but we will meet back here in person on Dec. 4 for the Court's decision on the motions.
If for some reason I'm unable to have my decisions ready or not all the decisions ready, I will certainly let you know.
BLANCHE: Judge, very, very briefly on the adjourned date. I am just stating the obvious that having President Trump in this courtroom today is extraordinarily burdensome and expensive on the city, and with the security issues that have taken place to allow us to be here today.
I do not know, your Honor, we have to decide this today, but we may ask that President Trump, his presence be waived just for that date.
We will speak with the President and with others in advance if necessary to request that of the Court.
JUDGE MERCHAN: You probably don't know now because you are not making the application. What would be the reason asking to waive his appearance?
BLANCHE: Just simply the fact the incredible expense and effort and security issues that present themselves with the President traveling and being in court. All of lower Manhattan was shut down today.
To the extent it is a conference or a decision that is announced, not anything that requires us to simultaneously consult with President Trump, we may ask his presence be waived.
JUDGE MERCHAN: Would you like to be heard?
CONROY: Judge, I would just say, as I'm sure you know, our general preference is defendants be in court on the court date.
We also recognize, as counsel explained, the immense burden that places on the court system and on lower Manhattan. So we would defer to your Honor's decision on that.
JUDGE MERCHAN: Well, there is no question this was a huge undertaking today for everyone involved, from Mr. Trump, the prosecution, the city, courts, there is no question about that.
At the same time, today is April 4 and we are looking at the first adjournment in December, that is quite a ways out.
You know, if a reason were to come up that your client was unable to appear on that date; something unanticipated, you can certainly run that by me.
But in the same way I expect all other defendants to appear in court, even high profile defendants, and I agree, we wish we could avoid all these logistical challenges. I think in the interest of transparency and assuring the rules of law evenhandedly, at this time I'm going to deny your application.
If you have another one to make later, you can.
BLANCHE: Thank you. To be clear, I was not suggesting President Trump does not want to be here.
I'm suggesting having lived the past several hours as your Honor has as well and the expense this costs the city just for an arraignment, that was a reason for bringing this up today.
I appreciate the Court's guidance. To the extent we need to, we will revisit it.
JUDGE MERCHAN: What you said is true, and I agree. Thank you all very much.